React Status
Feed since 17 Mar 2019
With a focus purely on the increasingly popular React library, React Status shares news, tutorials and helpful links covering the React Native and React.js space. See: http://react.statuscode.com/
To subscribe to and get updates from React Status in your feed stream, sign up, or see the rest of our feeds.
An MDX, MJML & React Workflow for Building HTML Emails — We know perhaps better than...
React Calendar Heatmap 1.9 — Inspired by the contribution heatmaps you can see on your GitHub...
react-svg 15.1: Component to Inject SVG into the DOM — Rather than embedding SVG with img...
React Virtuoso: Components for Rendering 'Enormous Data Sets' — Components for virtual lists / tables that...
React Archer 4.0: Draw Arrows Between DOM Elements — There are no fewer than nine live...
▶  Framework Friends: A Discussion of Remix with Kent C. Dodds — Talking of React-flavored full-stack dev,...
How Shopify Built Hydrogen: A React Framework for Building Custom Storefronts — A deep dive into Shopify's...
The Complete Guide to Building a React Form in 2022 — A good form can be a...
React Native 0.69 Released — The first version of React Native to support React 18 – nice....
Notes on Maintaining an Internal React Component Library — A developer's thoughts on maintaining a component...
H5Web: React Components for Data Visualization and Exploration — Initially built for the HDF5 data format...
Verbum: A Flexible Text Editor Built on Lexical — The still-in-early-development Lexical framework provides many of...
▶  A Must-Listen Podcast for Technology Leaders Solving Tough Problems
IdleTimer: Detect and Respond to Your User's Activity/Idle Time — Version 5 is a full rewrite...
Create Rust App: Set Up a Modern Rust + React Web App in One Command — In...
Airbnb's Trip to Linaria for CSS-in-JS — The full story of why Airbnb moved from its...
Helping Migrate React Native Libraries to the New Architecture — An update from the React Native...
React Labs: What The React Team is Working On — With the React 18 launch in...
'How We Reduced Bugs in Our React Codebase' — A thorough examination of three unexpected code...
▶  Zen and the Art of Building a Gmail-like UI with React Native — We see a...
Bulletproof React: A Scalable Architecture for Building Production-Ready React Apps — We casually mentioned this a...
Component Encyclopedia: A Catalog of 5000+ UI Components — Storybook, a popular UI component devtool, has...
'How I Created a Desktop Productivity App with React and Rust' — This is a neat...
Element vs Component vs Instance — Code heavy demonstrations of the distinction between the meaning of...
react-sketch-canvas: Freehand Vector Drawing Component — A feature-complete drawing component which uses SVG for the canvas....
React Switch 7.0: A Draggable Toggle Switch Component — Supports custom styling, is touch friendly, plus...
Be Amongst the First to Shape Our New Dev Community. Join Us Today
react-cmdk: A Command Palette Component for React — Customizable for building advanced functionality and you can...
Fourier Series Animation: Using the Fourier Series to Approximate Line Drawings — A neat little demo...
▶  Goodbye, useEffect? David Khourshid's Reactathon Talk — Here, Stately founder David Khourshid makes the case for...
ReactiveMaps 3.0: UI Components for Building Geo Search UIs — The new release supports both OpenStreetMaps and...
Locofy: Convert Figma Designs into 'Pixel Perfect' React Code — A well-funded crack at the holy...
gl-react: Simplifying WebGL Shaders — A library to write and compose WebGL shaders, enabling the creation...
Planby: A React Based Component to Implement an EPG-Like Timeline — Similar to the "electronic program...
Reading Source Code: React-Query — A tutorial which describes the author's methodology for exploring and understanding...
Should You Use Framer Motion or Motion One? — The author of both Framer Motion and...
Stress Testing React 18's Concurrent Features Using 3D Rendering — React 18 includes the highly anticipated...
How To Create a 'Copy Code' Button Along with React-Markdown — A novel combination of the...
How to Embed a React App in a Go Binary — Go is a popular language...
Plasmo: 'It's Like Next.js for Browser Extensions' — A React and TypeScript oriented framework for building...
An Overview of Remix Conf 2022 — A comprehensive, independently-prepared summary of the recently-concluded Remix Conf...
Build a Mobile-Responsive Telehealth Pager App Using Stream's Chat API — Build a responsive chat app...
Building Interoperable Web Components That Even Work with React — If you use different frameworks like React,...
Updated Course: Complete Intro to React — Join Brian Holt for this updated look at getting...
Glide Data Grid 4: A Fast Data Grid for React Projects — Bills itself as a...
Browser Extension Template: Quickly Flesh Out a Browser Extension Codebase — Think create-react-app but for an...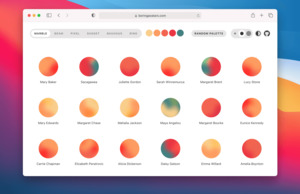 Boring Avatars: React Library to Generate Custom Avatars — Ranging from generic gradients to face-like creations,...
Storybook 6.5: New Workflows Intended to Enhance Productivity — The new release of the popular component...
Payload, a Node-Based Headless CMS, Now Fully Open Source — Payload, is a full-featured headless CMS...