React Status
Feed since 17 Mar 2019
With a focus purely on the increasingly popular React library, React Status shares news, tutorials and helpful links covering the React Native and React.js space. See: http://react.statuscode.com/
To subscribe to and get updates from React Status in your feed stream, sign up, or see the rest of our feeds.
useImagesLoaded: Know When Your Images Are Ready to Render — A page can look a bit...
react-ridge-state: Ultralight (400 Byte) State Management — If you've longed for a simple and light alternative...
Take Part in Our Vid Dev Survey & Help Us Shape the Future of Video
useWebAnimations: A Hook for the Web Animations API — While still badged an 'experimental technology' by...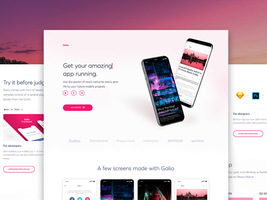 Galio: A New (and Beautiful) Open Source React Native Framework — Even though it's not quite...
5 Steps to Deal with Bugs in Your React Apps — An area which is often...
How To Make Clickable/Dynamic Graphics In React Using SVG — With seemingly everybody trying to visualize...
React Security Vulnerabilities That You Should Never Ignore — Do you spend time worrying about React's...
React's useImperativeHandle Made Simple — Looking for something which supports bi-directional data and logic flow without...
Building a Custom React Renderer with Sophie Alpert — The last tweet in Build a Custom...
Four Ways to Fetch Data in React — The title is a little deceiving: it's really...
Build a Custom React Renderer in a Twitter Thread — We've thought for a while now...
How to Use the useCallback Hook — Although React is fast right out of the box,...
Build or Buy: How to Do Your App's UI? — When should you invest in buying...
Building the Tailwind Blog with Next.js — If you want to get your beak wet with...
React Visual Editors in 2020 — An up-to-date review of the offerings in the 'no code'...
react-native-pdf: PDF in the Palm of Your Hand — This robust PDF-viewer can be easily added...
An In-Depth Beginner's Guide to Testing React Apps — A lot of posts will say 'in-depth'...
Ever Hear 'Can You Update Our Website Real Quick?' — ButterCMS is the #1 rated Headless...
Create a Lazy-Loading Image Component with React Hooks — Here's an opportunity to both learn the...
An Introduction To SWR: React Hooks For Remote Data Fetching — Application performance is a bi-product...
Next.js 101: What You Should Know — If you've noticed initial page loading with your React...
Setting Up a CI/CD Workflow on GitHub Actions for a React App — If you thought...
Using Babel Transforms to Inject Analytics Code in React Native Apps — Heap is focused on...
Creating a Server-Side Rendering React App with Deno — Francesco claims to love both React and...
Build an Animated Accordion List in React Native — We admit to having a soft spot...
How To Create a Weather App in React — We like to regularly feature tutorials which...
How to Create a Great User Experience with React, TypeScript, and the React Testing Library —...
NextAuth.js: Authentication for Next.js and Serverless — If your Next.js app is ready to go, short...
Reaction: Want to Out-Shopify Shopify? — Reaction is the headless, API-centric platform which might just be...
Articulate: Make Your Agent More Chatty — You don't have to look far these days to...
GraphQL Codegen: Generate Code From Your GraphQL Schema — While this has just launched in V1.0,...
Standard View: A 3D Graphics Library for React — Why settle for ordinary 2D graphics when...
React Query 2.0: Hooks for Fetching, Caching and Updating Async Data — v1.0 only came out several...
React Native Share 3.5: A Simple Tool for Sharing Messages/Files with Other Apps — Rather than...
React Lazy Load Image Component: Jumpstart Your App's Peformance — Lazy loading has the potential to...
Dokz: Build Documentation Sites with MDX — Create documentation with live-reload and based on Next.js, and...
Beautiful React Hooks: A Collection of Custom React Hooks — Beautiful Interactions has been building up...
Code Notes: A Gatsby Theme for Publishing Code-Related Notes and Snippets — If you've got a...
Sorry React, But I Can't Keep Up Anymore — Simply keeping up with the React ecosystem...
Ways to Create Components in React — We can always relate to any sort of analogy...
A Deep Dive Into the React Context API — While your new application may start off...
Better Reducers With Immer — If writing reducers by hand has left your code with a...
How to Set Up a React Native Project Using Expo CLI — Expo enables developers to...
Sharing React Components Between a Web & Electron App — In yet another effort to increase...
How to Replicate the Zelda BOTW Interface with React, Tailwind and Framer Motion — Now we're...
▶  Mina Markham with Thoughts on How To Learn React — Drew McLellan talks with Mina Markham...
State of Frontend 2020: Take Part in the Survey — What does the everyday job of...
Formidable Labs Builds Out urql's Offline Support Capabilities — Formidable's urql is burnishing its reputation as...