The New York Times | Technology
Feed since 21 Jun 2019
To subscribe to and get updates from The New York Times | Technology in your feed stream, sign up, or see the rest of our feeds.
A bipartisan group told the company that they were considering referring their concerns to the Justice...
Long-shot money is flowing into start-ups that seek the energy of the stars. Driving the investments...
The app, hailed as Facebook's growth engine, has privately wrestled with retaining and engaging teenagers, according...
Janneke Parrish, who was a program manager for Apple Maps in Austin, Texas, was one of...
Testimony addressed the question of whether Theranos was misleading and deceiving big corporations to get money.
A group of researchers said the "dangerous technology" was invasive and not effective at detecting images...
The Microsoft-owned service had censored posts in China, in compliance with the country's laws, to operate...
The prevalence of videos claiming fraud dropped sharply, according to New York University's Center for Social...
Audiobooks are an example of a technology developed by or for people with disabilities that has...
The actor who played Captain Kirk played the role of pitchman for Jeff Bezos' spaceflight company...
The social network, which has been under increased scrutiny after a former product manager turned into...
Andy Parker, the father of a journalist killed in 2015, filed a complaint with the F.T.C....
After the Blue Origin crew set down, science fiction met reality.
In a letter, the National Highway Traffic Safety Administration reminded Tesla that federal law requires automakers...
Hot Singles, a weekly email newsletter, evokes nostalgia for a simpler approach to finding romance, before...
Despite an overall decline in office leasing in the United States, technology companies gobbled up more...
Behind the closed doors are whispers, gestures and a daily rhythm, plus two court artists, numbered...
If what faces Big Tech is anything like what happened to Big Tobacco, the road ahead...
Average investors were not able to get in on the last decade's start-up boom in private...
At the heart of the legal battle is the power Apple wields over its lucrative App...
All of Facebook's main products — Instagram, WhatsApp, Messenger and the "big blue app" of Facebook...
With each Facebook crisis, we become savvier about the influence of tech companies on our lives.
This is a pivotal moment in Facebook's history. Here are suggestions for how to improve the...
The $530 million fine is Beijing's second major penalty this year against an internet company accused...
"We've heard directly from a growing number of our advertising and publisher partners who have expressed...
Jurors' eyes glazed over at detailed technical discussions as Theranos's former lab director described repeated instances...
As a scientist he saw the potential of microwave ovens when he observed one heating up...
Included in the breach was a list that purportedly showed how much money each of the...
Lawmakers in the hearing explored the role that Facebook's algorithms play in amplifying problematic content.
Frances Haugen, who left the social network in May and leaked internal documents, gave senators rare...
One proposal would require Facebook and other tech platforms to disclose details to regulators and researchers...
Many virtual private network services that were meant to protect your web browsing can no longer...
How Jonathan Kanter, the Biden administration's choice to be the Justice Department's antitrust chief, became a...
For more than five hours, the company's family of apps, including Instagram and WhatsApp, were unavailable...
"My daughter was damaged by Instagram," one user tweeted.
Here is a guide to some jargon used in the Facebook whistle-blower hearing.
And why it isn't about us.
The outage disrupted the digital lives of small-business owners, politicians, aid workers and others. But for...
The problem is that the breach that Ms. Blackburn referenced is largely unverified.
Ultimately, Facebook's ownership structure was also an issue, she said.
The former Facebook product manager handled democracy and misinformation issues and worked on counterespionage.
When apps used by billions of people worldwide blinked out, lives were disrupted, businesses were cut...
Ms. Haugen is testifying before a Senate subcommittee.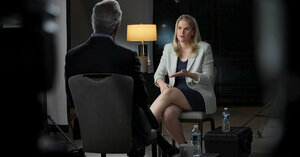 Frances Haugen, a Facebook product manager who left the company in May, revealed that she had...
Among young people, the idea that Instagram can hurt someone's self-image is widely discussed.
Mr. Zuckerberg and Ms. Sandberg are deliberately avoiding public comment on the leaked documents.
"This court gave the agency a second chance to make a valid claim," Facebook said in...
Twitter appeared to embrace its moment in the spotlight.
Frances Haugen, a former product manager for Facebook, will argue to protect consumers from a profits-over-safety...
A recent study of black holes confirmed a fundamental prediction that the theoretical physicist made nearly...