Serverless Newsletter
Feed since 17 Mar 2019
This feed is focusing on serverless architectures, function-as-a-service, AWS Lambda and related technologies. Curated by Raymond Camden, developer advocate for Auth0 See: http://serverless.email/
To subscribe to and get updates from Serverless Newsletter in your feed stream, sign up, or see the rest of our feeds.
Gatsby Serverless Functions and the International Space Station — Many eyes have been looking out to...
How to Set Up Scheduled Backups for Amazon DynamoDB using AWS Backup — Backups are the ideal...
▶  Talking Serverless with Josh Proto — Josh Proto is the COO of Serverless Guru, co-host of...
Rust and WebAssembly Serverless Functions in Vercel — This post explores how to use WasmEdge functions,...
Regulating Inbound Request Rates on AWS — A series of posts about building well-architected serverless apps....
Firecracker Internals: A Deep Dive Inside the Tech Powering AWS Lambda — Is Firecracker yet another new...
Set Up a Serverless GraphQL Backend in 30 Seconds with Hasura — Create a powerful GraphQL...
Cloudflare Workers Now Offers a Green Option — As our planet boils, freezes and floods in...
Fastly's Compute@Edge Platform Goes Generally Available — Given that Compute@Edge, Fastly's edge-located JavaScript-oriented serverless platform, went...
Build Your Own Shop with the Shopify Storefront API, and Serverless Functions with Eleventy — The...
Deploying a gRPC and gRPC Web API on Google Cloud Run — Leans on Cloud Run's...
How to Deploy a Java Microservices App to IBM Cloud Code Engine — Serverless isn't all...
Migrating from Lambda@Edge to CloudFront Functions — You may find this interesting if you're still figuring...
Cloudflare Introduces Usage Notifications for Workers — While you've always been able to log into Cloudflare...
Scale MySQL Globally in Minutes Without Code — PolyScale intelligently distributes and caches MySQL data to...
AWS SAM Pipelines: Automatically Generate Deployment Pipelines for Serverless Apps — AWS has unveiled the public...
AWS Decoupling: The Big Comparison — A (Python-oriented) comparison of Kinesis, SNS and SQS for decoupling...
Serverless Computing: A Security Perspective — I do love an academic paper, especially when it's reviewing...
▶  Goin' Serverless: A Serverless Folk Song — Jeremy Daly (of Serverless Chats fame) has picked up...
A Global Serverless Database for All Your Applications — Fauna is the "Data API" for modern...
Coming Soon: Expansion of AWS Lambda States to All Functions — Somehow I missed that AWS...
Cloud Computing's Destiny: A Single 'Global Computer' Enabled by Serverless? — A director at IBM Research...
Deploying Django RESTful APIs as Serverless Applications with Zappa — A thorough walkthrough. Zappa is a...
Serverlessly Load Testing Amazon API Gateway with Authorization — This post demonstrates using AWS Step Functions...
Funnel Rocket: A Serverless Query Engine — Funnel Rocket is a query engine for funnel analysis.
How the Koyeb Serverless Engine is Built — Not many companies put together their own serverless...
Redirection Done Better, with CloudFlare Workers — Serverless platforms provide a great no maintenance way to...
Detecting Locked Bicycle Stations: An AWS Serverless Story — This series of articles is about a...
Asynchronous Background Processing for Ruby using AWS Lambda Extensions — AWS Lambda Extensions were created so Lambda...
How Find Campsite Slots using Dart and AWS Lambda — Emery wanted to go camping in...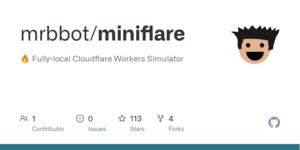 Miniflare: A Fully-Local Cloudflare Workers Simulator — A simulator for developing and testing Cloudflare Workers even...
▶  Using Deno Deploy to Release Super Fast Cloud Functions — Jack promises a look into the...
AWS CloudWatch Instance Monitoring Dashboard — Get data and actionable insights to monitor your applications, respond...
Using Amazon MQ for RabbitMQ as an Event Source for AWS Lambda — Yes, AWS Lambda...
Deno Deploy Beta 1 — Deno Deploy is a multi-tenant JavaScript engine (running V8) operating in...
Under the Hood of New Relic's Lambda Extension — Learn how New Relic's Serverless dev team...
Behind the Scenes of AWS Lambda — An accessible, though technical, look behind the scenes at...
C# 9 In-Process Azure Functions — This post shows how to use C# 9 with in-process...
▶  Serverless Infrastructure as Code with Ben Kehoe — Newsflash: The Serverless Chats podcast has a new...
Monitoring and Troubleshooting Serverless Data Analytics Applications — The latest in a long running series of posts...
Cortex: Your Own 'Serverless' Platform on AWS — The idea here is that Cortex provides you...
Implementing A LIFO Task Queue using AWS Lambda and DynamoDB — SQS works great for creating FIFO...
How OpenFass Got Close to the Metal — OpenFaaS is a system for deploying serverless functions...
The Fault in Our Stars (or Wildcards) — One neat use of AWS Lambda is in...
▶  Building Apps on the Decentralized Web with Nader Dabit — Jeremy Daly chats with Nader Dabit,...
Prototyping at Speed with AWS Step Functions New Workflow Studio — Last week we featured the introduction...
▶  How to Create Custom Handlers for Azure Functions — Custom handlers are lightweight web servers that...
Performing OCR with AWS Lambda and Tesseract — OCR/text recognition always feels like a natural fit...
Streaming Amazon DynamoDB Data into a Centralized Data Lake — The DynamoDB document database works great...
Deploying Machine Learning Models with Serverless Templates — How to use AWS SAM templates to deploy...