Why RSpec Tests Fail (and How To Fix Them) — A variety of examples of where...
What's New in Ruby 2.7? — There's a lot coming in 2.7 (due on Christmas Day),...
Main Takeaways From Matz's RubyConf 2019 Keynote — We linked to the keynote video last week,...
Getting Started with Svelte and Rails 6 — If you are that person that likes to...
9 Industries Where Flagship Companies Choose Ruby on Rails — The list of industries is impressive,...
Rails 6.0 New Framework Defaults: What They Do and How to Safely Uncomment Them — When...
Behind-the-Scenes of 'Geared Pagination' in Rails — A dive inside the geared_pagination gem which was written...
Emoji Driven Development in Ruby — This is more for amusement than for your production code(!)...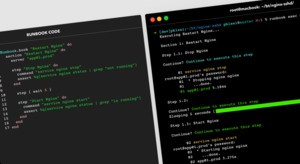 Runbook: A Ruby DSL for Gradual System Automation — PayPal-owned Braintree uses this to automate their...
Magic Comments in Ruby — You've likely seen (and even used) 'magic' comments, but you probably...
Active Storage File Upload Behind The Scenes — Active Storage is a framework, now built into...
How to Correct 32,000 Incorrect CSV Files in Fewer Than 32,000 Steps — We've all faced...
Disassembling Rails: How Does ActionText Deal with File Uploads? — ActionText is a new rich text...
Goodbye ActiveRecord! — Hello ROM! Aircall broke their Rails monolith into service using Rails, Sinatra, and...
Scaling Your Ruby Service Objects with LightService — The light-service gem implements the Railway (or, some...
A Look at Node.js for Rails Lovers — If you're from a Ruby background and haven't...
How to Setup Ruby Object Mapper (ROM) for a Standalone Project — A look at setting...
First Impressions of Ruby 2.7's Pattern Matching — Enjoy this 'sneak peek' at what pattern matching...
CanCanCan 3.0: The Authorization Library — The most used Ruby authorization framework has some breaking changes...
Ruby 2.7 Adding Numbered Parameter Support? — An interesting feature here that lets you reference a...
An Deep Dive into TensorStream — TensorStream, a machine learning framework, is based on TensorFlow that...
An Unusual RSpec Time Issue — An investigation into why a test was failing only 30...
Approaches for Speeding Up Your Rails Apps — You've probably heard all of this before, but...
Creating Raspberry Pi Apps with Raylib and Ruby — Raylib is library used to create GUI...
Exploring TracePoint in Ruby: Events — We linked to part one in last week's issue, the...