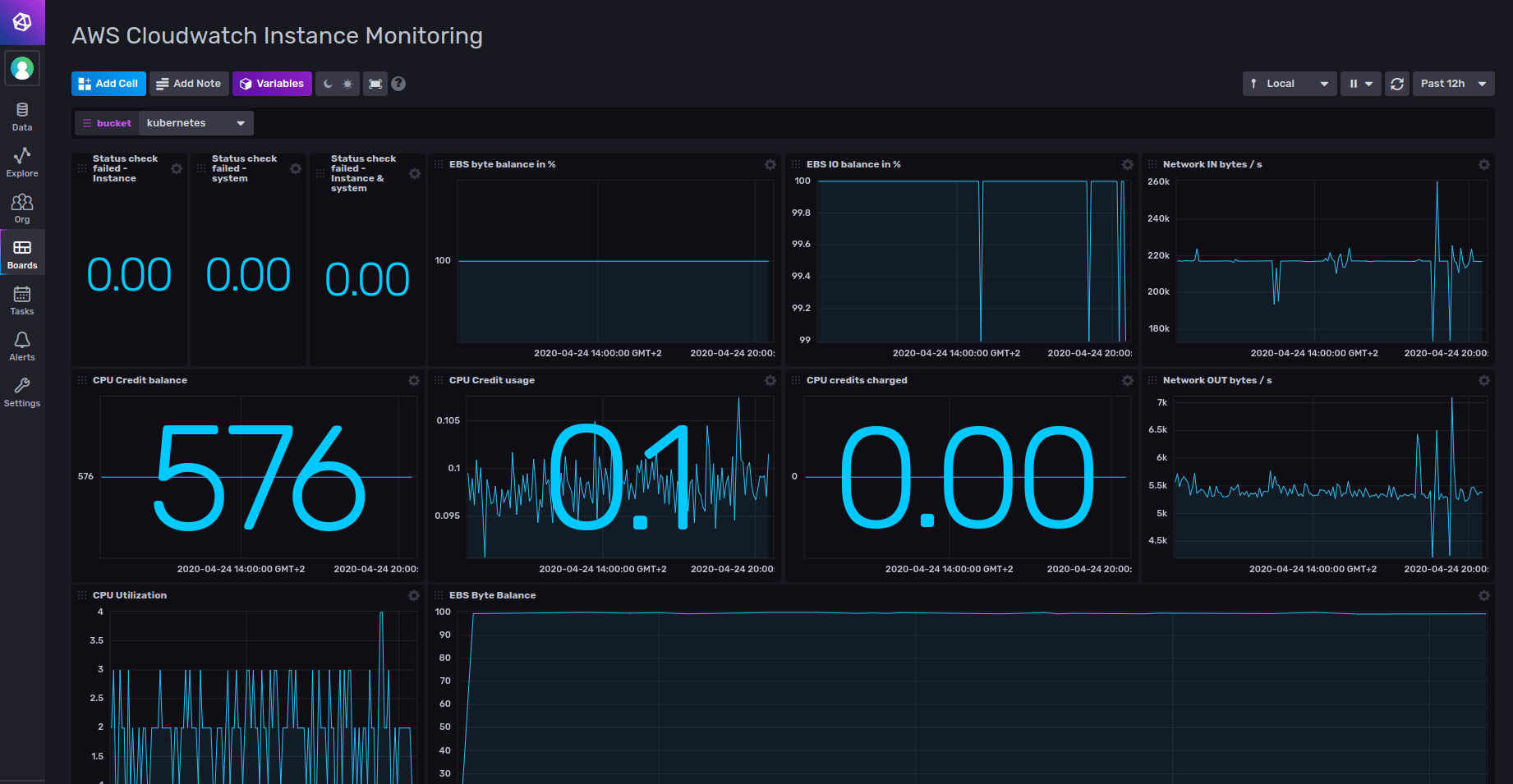 AWS CloudWatch instance monitoring dashboard
AWS CloudWatch is a monitoring and management solution that is intended to provide both data and actionable insights for both hybrid and on-premises applications and infrastructure resources that utilize Amazon Web Services. CloudWatch is an invaluable resource in terms of collecting and accessing all performance and operational data at any time, which is itself presented in the form of logs and metrics in a single, easy-to-use platform.
It's great for detecting anomalous behavior in your environments, visualizing logs, taking automated actions and more — all of which underline why AWS CloudWatch monitoring is very much recommended for such deployments.
AWS CloudWatch is Amazon's own built-in infrastructure monitoring tool that allows you to monitor over 80+ AWS cloud resources like S3, VPC, DynamoDB, and the applications you run on AWS. CloudWatch provides you with data and actionable insights to monitor your applications, respond to system-wide performance changes, optimize resource utilization, and get a unified view of operational health.
CloudWatch collects monitoring and operational data in the form of logs, metrics, and events — providing you with a unified view of AWS resources, applications, and services that run on AWS and on-premises servers. You can use this template to detect anomalous behavior in your environments, receive and act on alerts, and view the pre-made dashboard to discover insights to keep your applications running smoothly.
Get a quick snapshot of the state of your AWS instances with this template. The template also shows resource consumption per instance, to help you determine where the problems are.
You can use this template to monitor your load balancers, analyze traffic patterns, and troubleshoot issues with your load balancers and targets.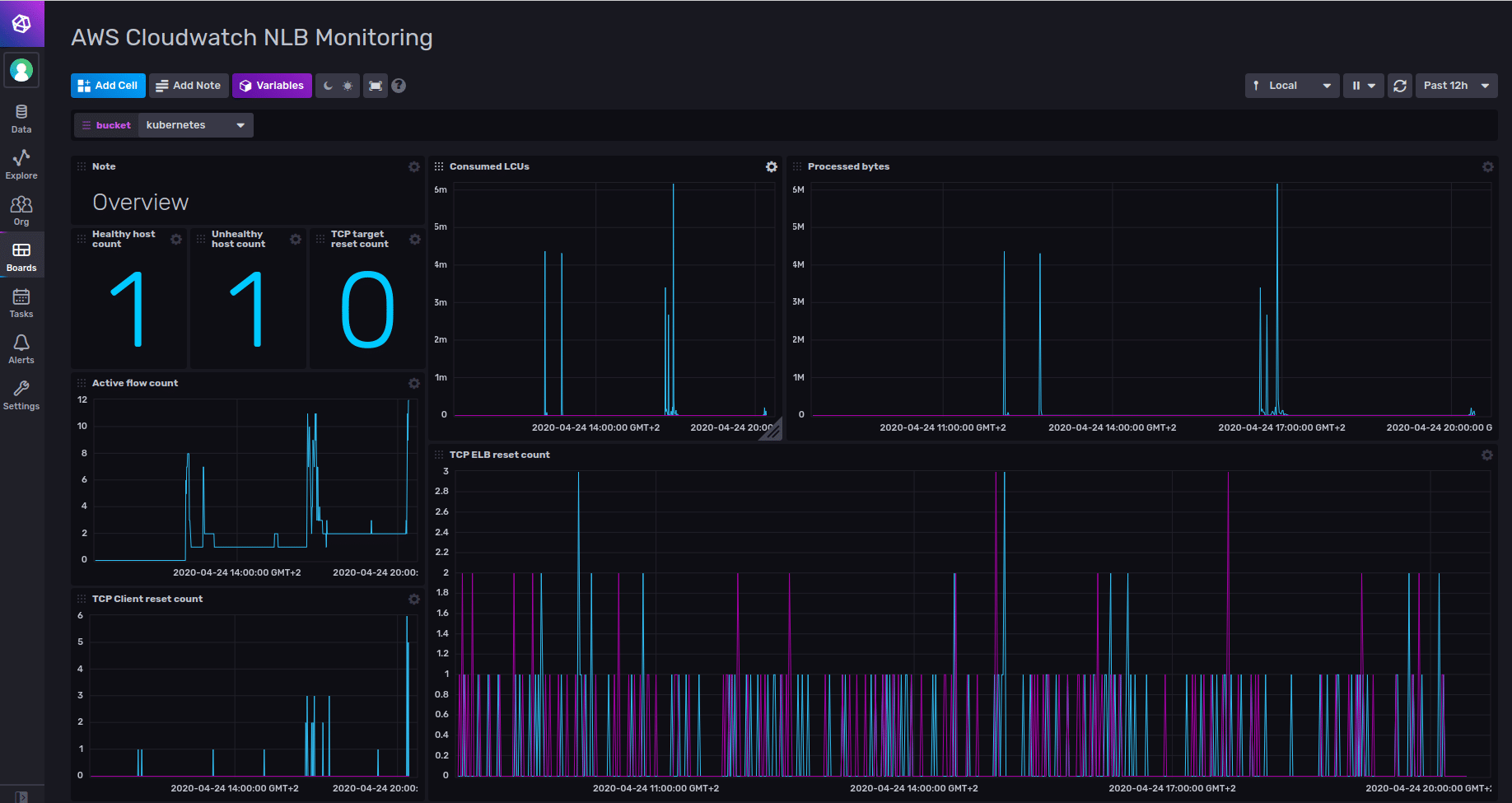 AWS CloudWatch network load balancer monitoring dashboard
Once your InfluxDB credentials have been properly configured within the CLI, you can install the AWS CloudWatch template with the following command:
influx pkg -u https://raw.githubusercontent.com/influxdata/community-templates/master/aws_cloudwatch/aws_cloudwatch.yml
Note that there are actually two different dashboards that can be used to display data from AWS EC2 and ELB via the AWS Cloudwatch service. They include:
The AWS CloudWatch network load balancers monitoring dashboard, which displays data from the cloudwatch_aws_network_elb measurement.
The AWS CloudWatch instance monitoring dashboard, which displays data from the cloudwatch_aws_ec2 measurement.
Once you load the relevant dashboards (and the Telegraf CloudWatch plugin) into your environment, you can use said plugin in your Telegraf configuration to start the process. To load the appropriate dashboard and select which bucket the data is stored in, use the v.bucket variable.
Some of the most important AWS CloudWatch monitoring metrics to pay attention to include:
Status check failed - instance
Status check failed - system
EBS byte balance in %
EBS IO balance in %
Network IN bytes/s
CPU credit balance
CPU credit usage
CPU utilization
EBS byte balance
CPU credits charged
Network OUT bytes/s