After deciding to slowly make our way up through Europe to arrive in Sweden for Christmas, we also decided that we would slowly make our way through Morocco before we arrived in Europe. We'd been living in Casablanca for a month, but hadn't made time to visit Marrakech, Fes, Tangier, Essaouria, the Saraha desert… all the touristy parts of Morocco were still as foreign to us as the day we arrived.
Our first stop would be Fes, then on to Tangier before catching a ferry to Spain. The areas south of Casablanca would have to wait for another time.
We stayed at Funky Fes, a hip riad just inside the Bab Jdid gate of the medina. There were lots of young travellers from all over the world, and it felt good to meet new people after the relative isolation of life in Casablanca. Plus, the rooftop patio had an amazing view over the medina. Watching the sun rise over all those satellite-dish-covered buildings was a breathtaking moment.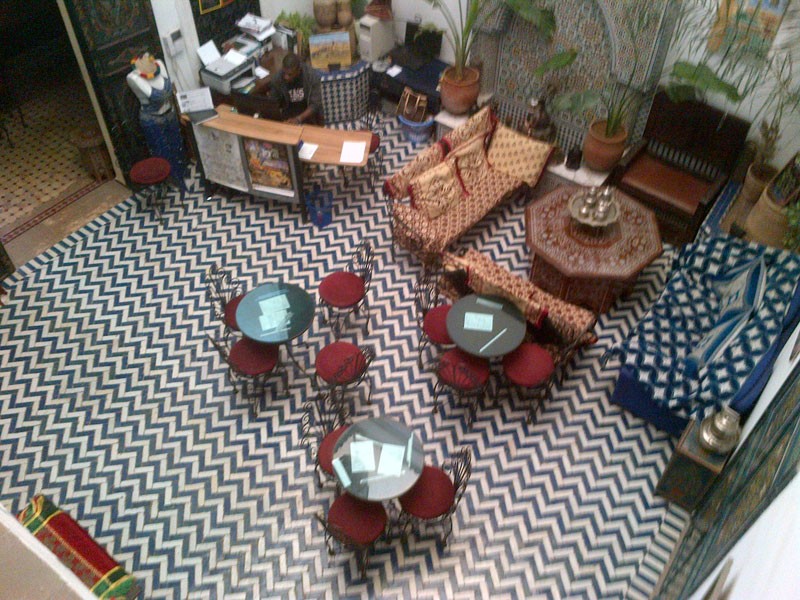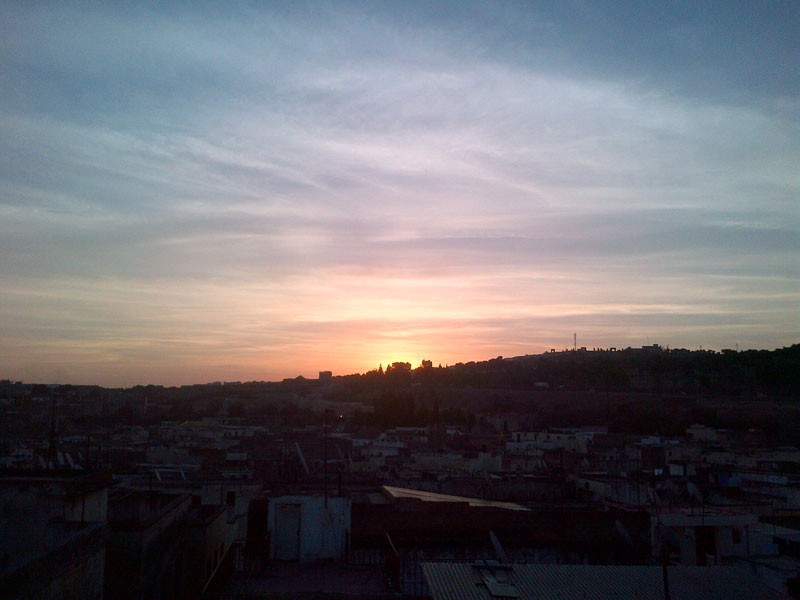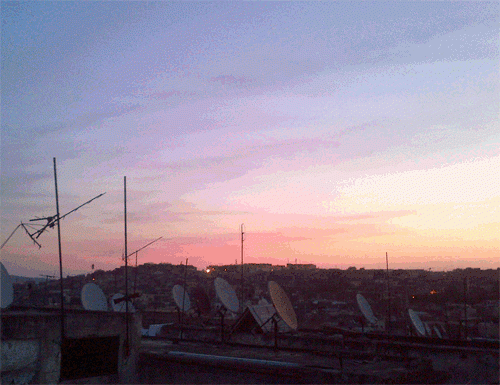 The Fes medina is a magical place. A veritable rabbit hole of alleyways that always seem to spit you out at the same four or five public squares, it was a joy to walk around and get lost for a few hours. Casablanca's medina, the only reference point we have, pales in comparison. Eager to discover what would be around the next corner, we thoroughly enjoyed oursleves while sampling homemade nougat and fresh lemonade, eyeing beautifully crafted tin lamps, dodging the mules and horses that serve as taxis in these cloistered streets, and breathing in the damp musty smell of tanned leather.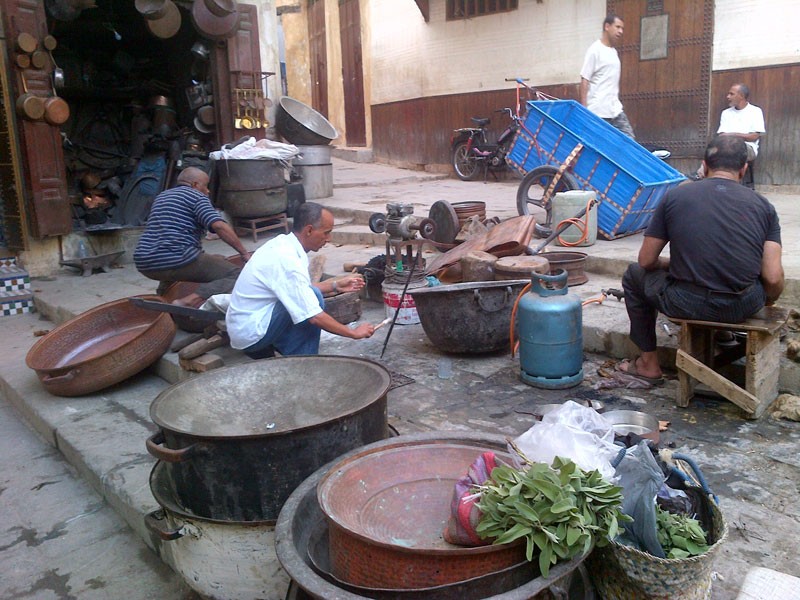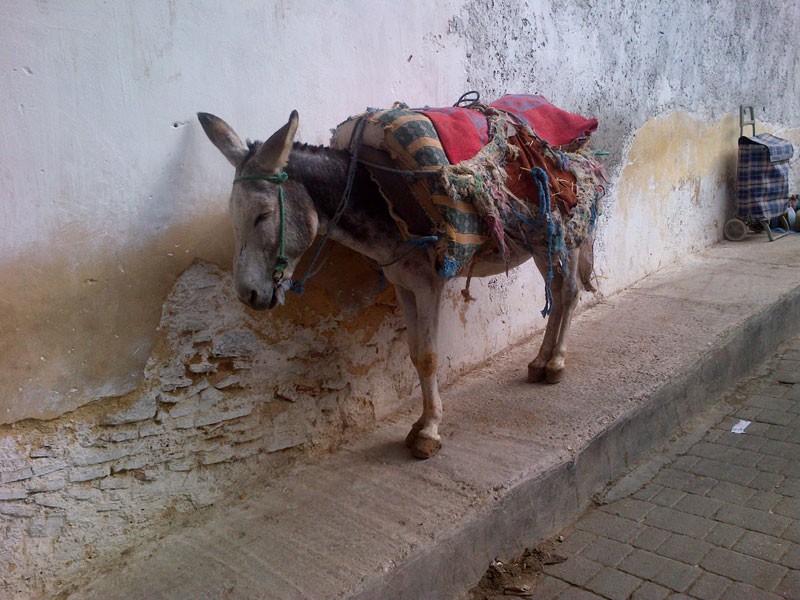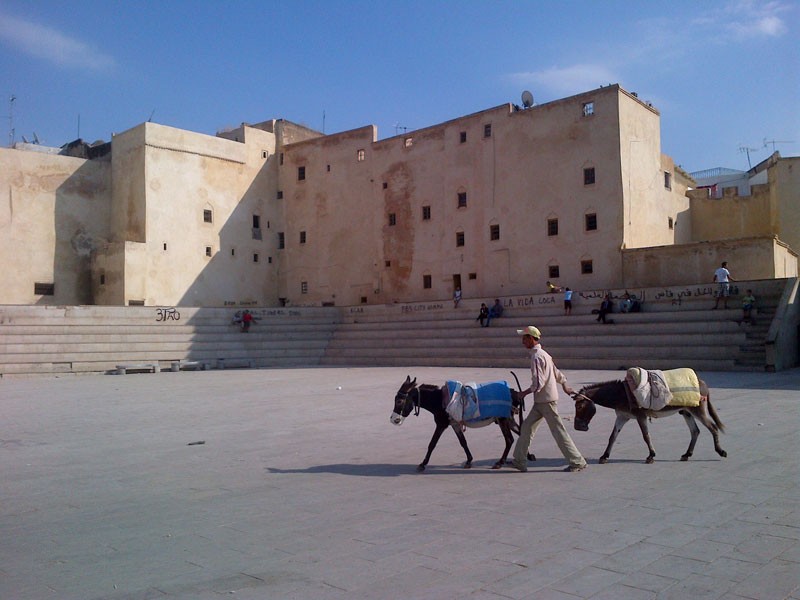 Of course, Fes is known for its tanneries — yes, I had seen the photos online of men practically dancing atop vats of dye containing all the colours of the rainbow. Animal skins are arranged like decor around the perimeter in various stages of cleaning, dyeing, and drying. It's a perfect postcard scene, and of course we wanted to visit one. We failed in our first attempt to get there, getting lost and then harassed by a shop owner who eventually made it quite clear that he was personally aggrieved that we didn't want to buy his wares. We fled back to the hostel to look at a map and get some proper directions from the staff.
All of the travel advice I had read warned that it's not easy to just walk up to the tanneries and take a peek. You have to know someone who knows the tannery owner, and that usually means going on a guided tour. Of course, every other person you meet on the street will offer to take you to see the tanneries, but they often get you lost in the bowels of the medina and then demand an exorbitant fee to take you the rest of the way.
Despite this knowledge, we decided to make a go of it the next morning, armed with a map and our newfound sense of direction. Other people in our hostel had gone to the tanneries without a guide, so we figured it wouldn't be too difficult. Deftly avoiding eye contact with yesterday's haranguing shop owner (it turns out we were on the right path the previous day), we made it to an alleyway where the stench of leather was palpable. Through the cracks of windows and doors, we caught glimpses of the famous vats as we walked along — this was definitely the right place.
An unassuming man selling some kind of cheap trinkets or made-in-China scarves (there were so many of them, it's hard to keep track) caught us as we passed by, asking if we wanted to see the tanneries. Having rebuffed dozens of similar approaches, we began to walk away — I was wary, and wanted to at least get the lay of the land before agreeing to let someone show us the tanneries. But he kept talking, and we kept listening, and eventually he assured us that he wasn't looking for any payment, that he knew the owner of the nearest tannery, and that we could walk in and observe without paying a cent. "Of course," he added, "the stench is quite strong from ground level so he also has an elevated observation deck which will only cost you five dirhams to access."
Ah, there's the catch — wait, five dirhams? That's $0.63 Canadian. Okay, let's do this. The man left his storefront and led us around a corner, into another shop where he introduced us to his friend, the tannery owner. With a hurried apology, the first man explained that he needed to get back to his shop. The tannery owner, a tall, suave, calm gentleman, gave us each a sprig of mint. "For the smell," he explained. He led us up a winding staircase which opened onto the rooftop. From here, we had a brilliant view of the tanning process.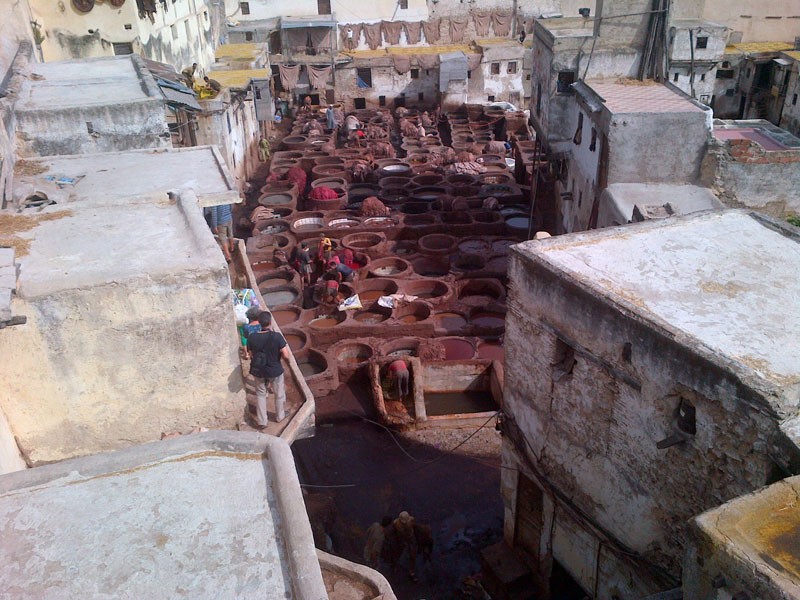 After taking in the scene (and taking a few photos as well), we headed back down the stairs and bought some handcrafted leather goods as Christmas gifts. Despite my terrible poker face, we managed to haggle down to two-thirds of the original asking price. Sure, we didn't get the best deal in the world, but our experience was a far cry from the doom-and-gloom travel advice I had read.
Still, getting swindled in the local markets is a rite of passage for any tourist, and in our case it happened that afternoon.
In general, we had been surprisingly good at negotiating for souvenirs on our own. That said, we planned to do a lot of Christmas shopping in the medina and we wanted to make sure that we weren't being played for fools. Our hostel runs a scheduled afternoon shopping trip, where a local guide will take you around to buy what you want and negotiate with the shopkeepers on your behalf. So we thought, sure, why not.
Unfortunately for us, the real swindler was our guide. Having meandered around the medina on our own, we had a fairly good idea of the prices we could negotiate by ouselves. Perhaps my strong French and possibly-maybe-Moroccan complexion made the shopkeepers go easy on us. But as soon as we were accompanied by a guide, we were definitely branded as foreign tourists. In some cases, the final price negotiated by the guide was more than what we had paid for the same item earlier that same day.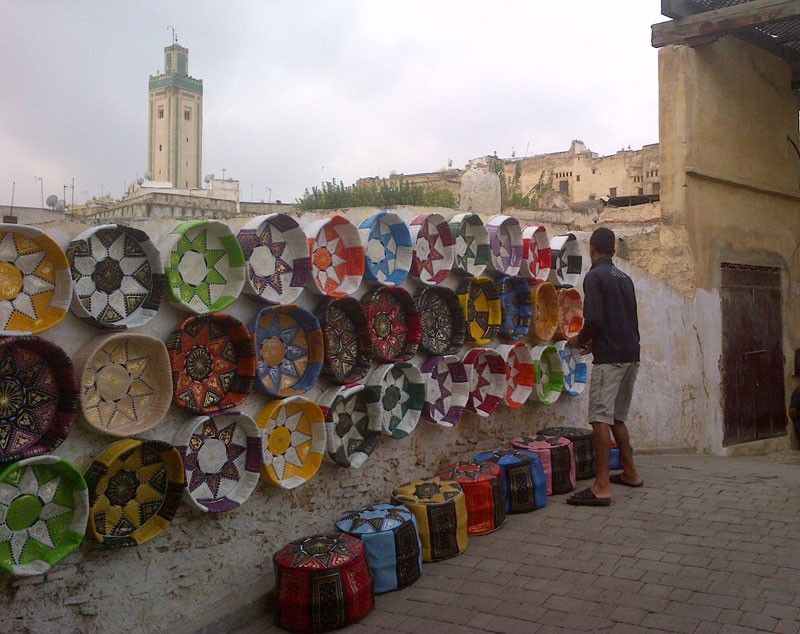 On top of that, the guide only took us around to shops run by his friends — you can be sure that they had an agreement worked out. After adding in the customary 10% tip to the guide at the end of our shopping trip, needless to say I was frustrated.
Well, let's call that a lesson learned. Life goes on, and Fes is still beautiful. We unwound with some lemonade in one of the public squares, before venturing back into the medina for Moroccan pizza. We headed back to the hostel for a pot of mint tea and spent the evening atop the rooftop patio. All in all, it was a good day.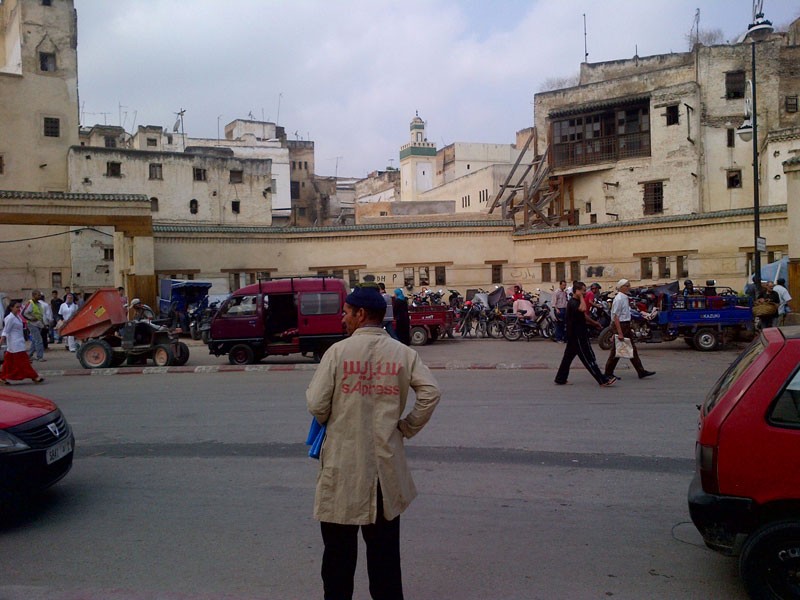 Sam Nabi