I first came across the word permaculture while looking for volunteer opportunities online. Melissa and I had our hearts set on visiting Portugal and we were finding lots of organic farms that were willing to host us in exchange for a few hours' work each day. At first I glossed it over as another sustainability-related buzzword, but after six weeks of permaculture experience, I was actually pretty excited about the concept.
The easiest way for me to describe permaculture is in comparison with monoculture and polyculture. Whereas monoculture optimises the land for a single crop, and polyculture encourages crop rotation and biological diversity, permaculture goes a few steps further. People who practice permaculture seek to enhance ecosystems, achieve energy independence, and pursue cultural richness while working towards long-term food security. Permaculture recognises that growing crops is only one part of a complex social-ecological-economic system.
Like sustainability, permaculture has no concrete definition and is very much adaptable to the context in which it's practiced. From my experience in Portugal, permaculture's strongest evangelical tool is the proliferation of permaculture design courses, which provide tangible tools and knowledge for farmers and land owners to work within their ecological context.
When it comes to these practical methods of permaculture design, I was surprised to learn that permaculture doesn't shy away from altering the landscape. In particular, it's common to create microclimates using man-made lakes, terracing, and large rocks. Sepp Holzer, permaculture's most famous celebrity, has diverted whole watercourses to create artificial lakes on his property.
Algarve
Our hosts in the Algarve, with whom we stayed for two weeks, practiced permaculture at a household level. They had installed solar panels to meet their energy needs, used the natural topography of the land to irrigate their orchard with greywater, and created terraces and rock walls to make a warmer microclimate for growing food.
But it's important to point out that our hosts plan to go beyond just stewardship of the land. They have built a small cabin overlooking a lake on their property, and want to rent it out as part of a retreat/meditation centre. This is in keeping with the golden rule of permaculture, which is to have different kinds of systems working together. Money coming in from cabin rentals would provide a measure of financial stability in the case of a bad harvest, for example.
Of course, this is just one family and their property, so it's hard to be completely self-sufficient. Yes, the family goes into town to buy groceries and one of the parents still has to work outside the home. But this is a husband and wife with two young daughters who are already off the grid, and already growing many of their own fruits and vegetables. That's a significant lifestyle and culture shift, and they're only been at it for two years.
Vale da Lama
During our stay in the Algarve, we also visited a 42-hectare permaculture institute called Vale da Lama that espoused many of the same goals as our hosts, but operated on a much larger scale. They had many hectares of land devoted to food forests, different types of orchards, stable woodland, harvestable woodland, grazing pastures, an herb garden, and communal outdoor space.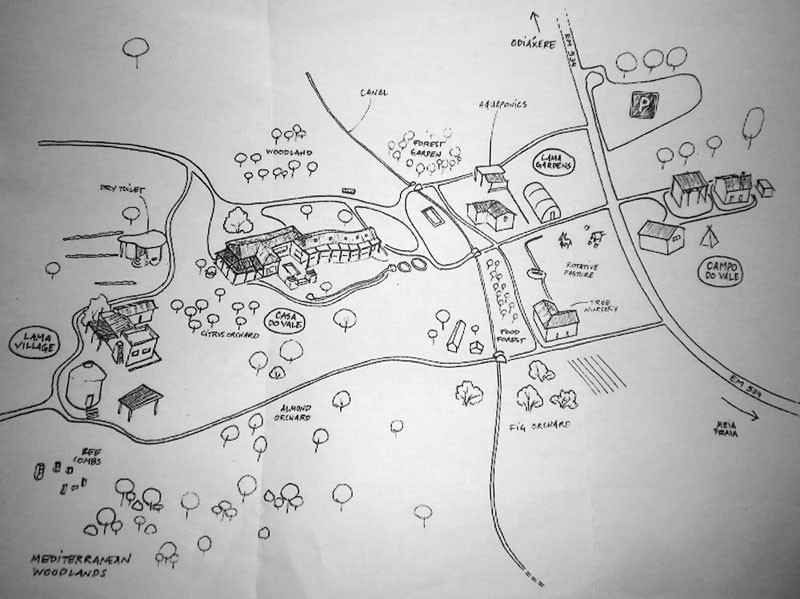 Vale da Lama's brochure explains their motives this way: "Our objectives are to regenerate soil life and re-establish the innate diversity of ecological, social, and economic systems, bringing back the natural health of the land and its people, and improving their capacity to locally respond to the challenges we are faced with nowadays."
It's an impressive agricultural operation, but that's not all Vale da Lama does. It relies primarily on yoga retreats, conferences, getaways, and permaculture design classes to financially support the agricultural activities.
In fact, Vale da Lama got its start thanks to a multimillion dollar investment from an wealthy American business owner. It hasn't yet found a way to become financially sustainable, and that seems to be the hardest part of the permaculture puzzle to crack. But more on that later.
Oleiros
Our second volunteer experience was in the centre of Portugal, near a town called Oleiros in the heart of the Estrela Mountains. Our hosts here had similar ambitions to those in the Algarve: they own a small olive farm (about 250 trees), and plan to offer permaculture design workshops in the future.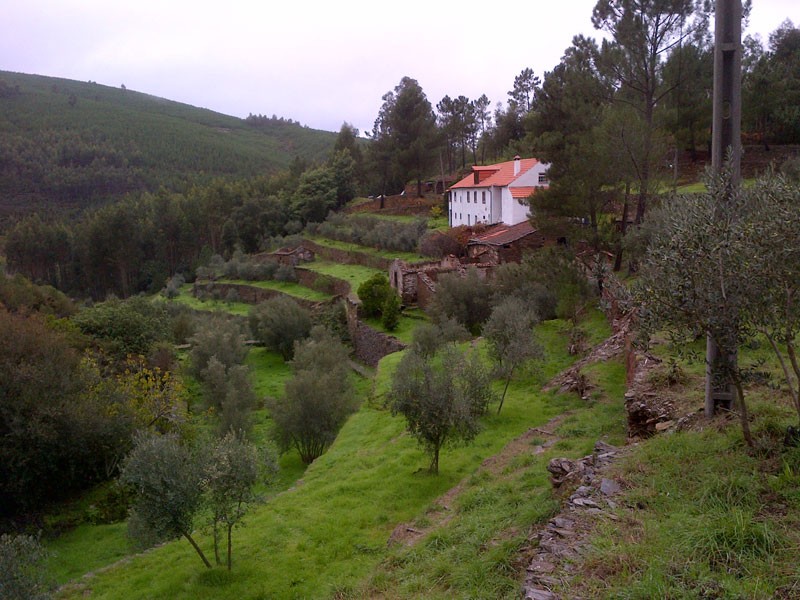 Our hosts were well-read on permaculture theory, and had a few books by Sepp Holzer. We actually implemented some of this theory during our time there, building a few raised beds following Sepp Holzer's hugelkultur method (that's hill culture in German). The idea is to make a pile of dead wood, cover it with compost, cover it all with dirt, and then plant some stuff on top. The core of rotting wood will provide a steady source of moisture and nutrients for the raised bed, cutting down on the need for irrigation and fertilizer. Here's a youtube clip showing how it's done.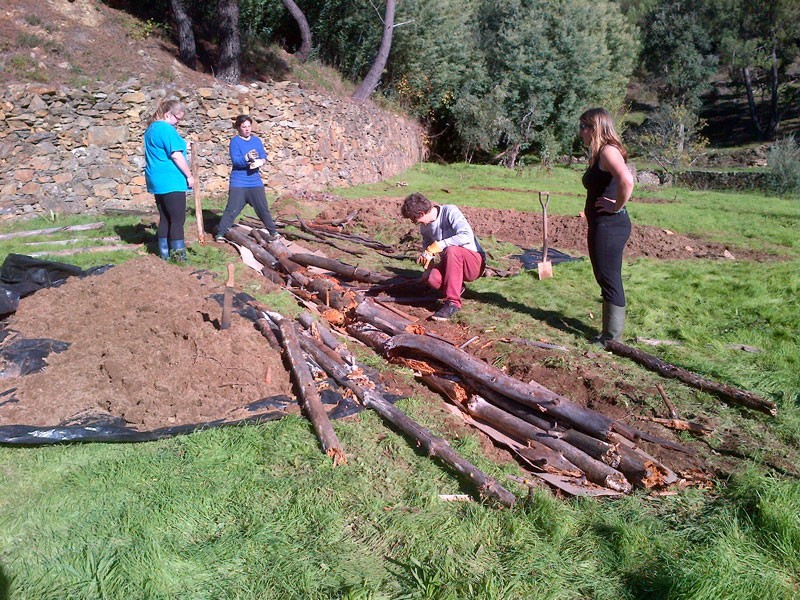 System change is hard
The glaring hole in these approaches to permaculture is that their long-term plans rely on money coming in from one-off retreats or workshops — that is, people with a lot of disposable income who want to go on holiday and learn about permaculture. With permaculture courses ranging from €800 to €2000 in this part of Portugal, it's not exactly accessible to a large part of the population, especially considering the employment crisis in Europe right now.
If the demand for classes and retreats is to keep ahead of supply, permaculture must always be an alternative, minority lifestyle. For permaculture to become a widespread phenomenon, its economic stability cannot rely on rich urbanites and expats to foot the bill.
Practicing permaculture should lead toward a circular economy — one where the value produced by the land and the people living on it is reinvested in the local community. That's really difficult to achieve, but permaculture can't continue to grow as a movement if it needs to be funded by the current economic system.
Why Portugal?
So why is Portugal such a hotbed for permaculture? Honestly, despite my criticisms, I think Portugal has a lot going for it. First, its population still has a cultural connection to rural life. Many young adults can remember their parents' or grandparents' farms and the country has only recently urbanised at a large scale.
Second, a desparate young workforce, plagued by unemployment, is returning to the land and seeking alternative lifestyles. The rural exodus of the past 30 years or so has left hundreds, maybe thousands, of abandoned villages in Portugal (mostly in the central region). There are whole villages, complete with fixer-upper stone houses and neglected farmland, that are just begging to be brought back to life.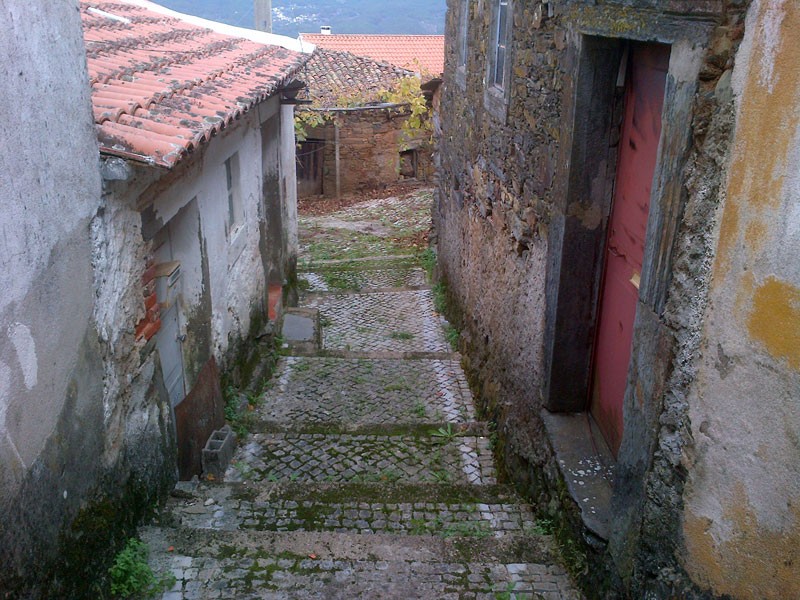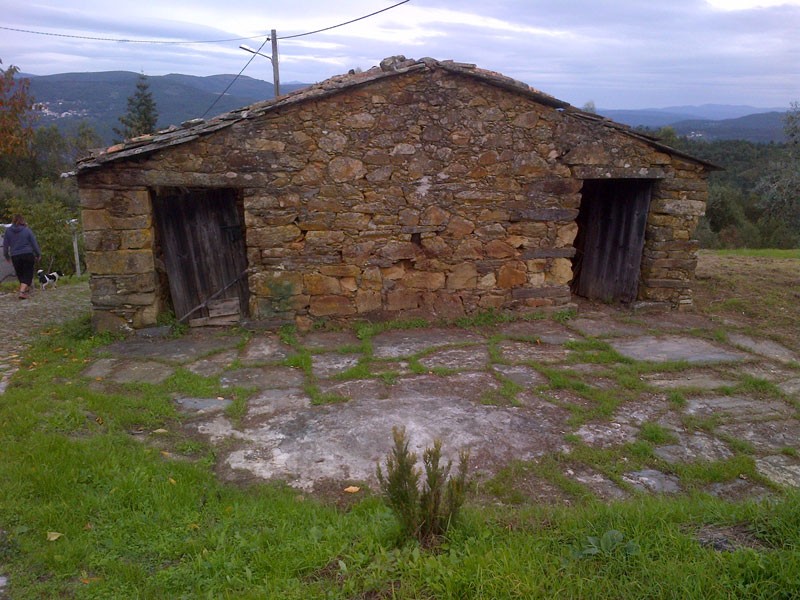 Lastly, Portugal has a fantastic climate for growing a range of produce. In the Algarve, our hosts grew lots of citrus in the orchard, and could even make bananas work if the winter was mild.
Permaculture could be the blueprint that Portugal needs to get out of its economic slump and breathe new life into its countryside. But before a pastoral revolution sweeps the country, permaculture advocates need to do two things: 1) make permaculture education more accessible, and 2) transition away from relying on retreats, workshops, and the like for revenue.
Portugal has the natural climate, social capital, and rural infrastructure to make permaculture happen in a very real way — here's hoping it succeeds on the economic front as well.
Sam Nabi