There's lots of advice around the internet for expats looking to settle in France (and Paris in particular). Before coming here, I read up on countless forums and blog posts about how to look for a place to live, set up a bank account, get a phone plan, and all that wonderful bureaucratic stuff. Still, when I arrived in Paris it was sometimes overwhelming and confusing to jump through all the hoops.
So here's my modest contribution to the corpus of advice. I'm going to go through each task in detail, listing the documents you'll need, fees you'll have to pay, things to watch out for, and timelines for how long you'll have to wait.
Before I begin, a disclaimer: this post is based on my personal experience in January 2014. By the time you read this, it might not be accurate any more. Post corrections in the comments and I'll edit the post as necessary. Also, FYI, I arrived in France with an EU passport and a work contract. If you don't have these documents, think about what other equivalent papers you could use (e.g. student visa and a school acceptance letter).
I've organised the following sections in more-or-less chronological order. For example, you can't get a phone plan without a bank account, and you can't get a bank account without proof of residence. So finding a place to live is going to be one of the first things you need to do.
If you have any questions or want to share details about your own experience, leave a comment! Now, let's get started.
Get a prepaid phone plan
It doesn't really matter with whom. But unlock your phone before you come, and once you get here buy a cheap prepaid SIM card with basic calling and texting. This shouldn't require any ID or paperwork. But you'll need a French phone number for all that other paperwork you're going to fill out.
Done? Good. Now, let's really get started.
Get a Vélib' membership
Paris' bike-share network, Vélib', is a great way to get around the city. For me, it takes slightly longer than the Metro to get around, but I get to look at beautiful Haussmannian streetscapes instead of a dingy tunnel on my commute.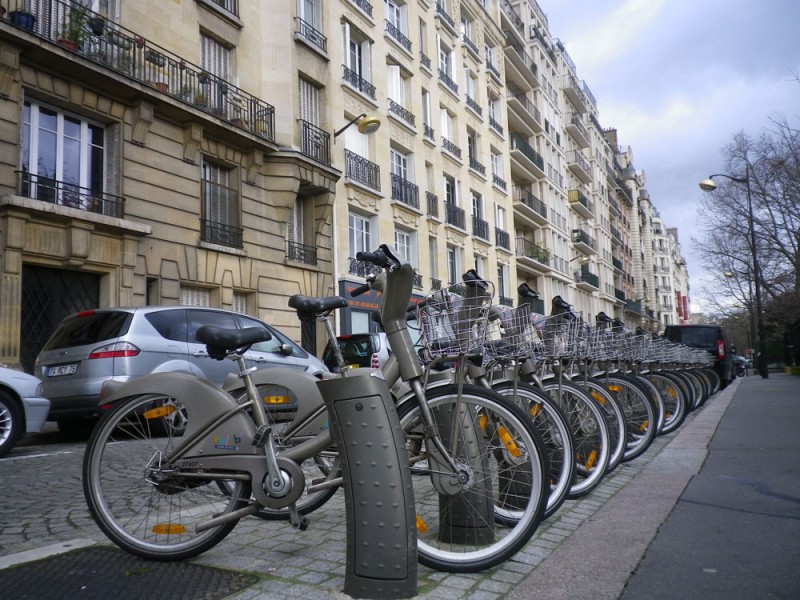 You can get a year-long Vélib' membership for €29, or €19 if you're under 26 years old. that gets you unlimited trips of up to 30 minutes throughout the whole city (you can bump it up to 45 minutes for an extra €10). And yes, if you're getting close to your half-hour mark, you can just dock it at any station and hop on another bike — the timer starts again at zero. Check out this map for all the Vélib' station locations.
What I'm saying is, get the Vélib' membership. It's dirt-cheap and Paris is a nice city to bike around in. The first step is to grab a Vélib' Express card from one of these locations — it's faster than waiting for a card to be mailed to you.
Once you have the card, go to the Vélib' website and sign up. You'll need a French phone number, but a foreign credit card will work fine for the payment — you don't need to set up a French bank account for this.
Find a place to live
There are a lot of shady landlords and rental scams in Paris. So the first tip here is to be vigilant, don't give anybody money unless you have a signed contract in your hands, and never feel pressured into making a decision right away. I know that Paris is a tight rental market, and landlords can afford to be discerning because there's just so much demand. But if someone is pressuring you give you cash right now, it means they're the one who's desperate. Don't feel bad about taking 24 hours to decide if you really want the place or not.
Now, unless you already have a French bank account set up, you will likely have to deal in cash when looking for a place to live. Either that, or a wire transfer. Landlords don't like cheques, especially not foreign ones. Just make sure that you get receipts for the money you hand over.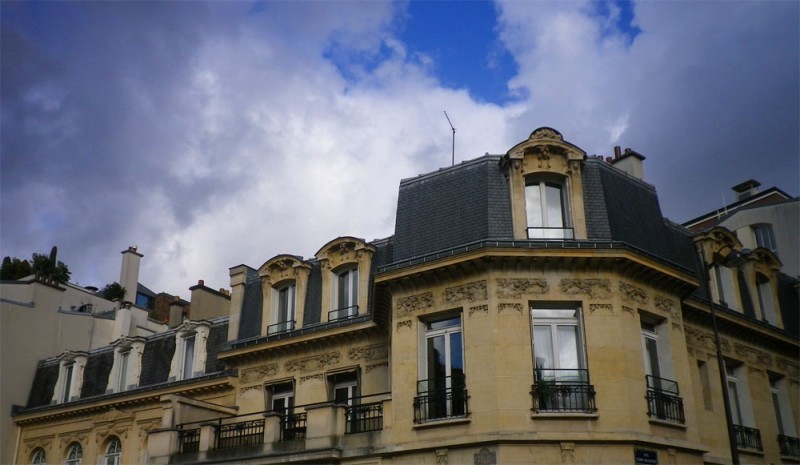 Where to look
There are a few useful websites for finding rentals:
These sites mostly feature ads by individual landlords, not real estate agencies. Agencies will typically charge a one-time fee called an honoraire, so watch out for that. Another word you'll come across is garantie, which is the security deposit. It's normal to pay a one-month security deposit, whether you rent from an individual or an agency. Furnished places might have a garantie higher than one month's rent.
When looking at the listings, often you'll also see the words charges comprises (CC) — utilities included, or hors charges (HC) — utilities extra.
If you're looking for a studio, you'll see listings that mention WC sur palier, douche sur palier, or both. This means the toilet and/or shower is shared among multiple tenants, and is usually located on the same floor as your unit.
Arranging a visit
When arranging a time to view a place, it's better to call than to send an email. Most of the time, people won't respond to an email.
When you decide on a place, you may be asked to provide your landlord with a copy of your ID and work contract. While the first payments will have to be done via cash or wire transfer, your landlord will also want your French bank account details once you set that up — which leads us to the next step.
Open a bank account
I got my chequing account (compte courant) from La Banque Postale. Most branches offer on-site consultations without an appointment, so just go into a nearby location and ask to open an account. (This is true for most banks — check out this comparison tool if you want to shop around for one that meets your needs.)
You'll need to bring the following documentation:
ID (e.g. a passport)
Proof of residence (e.g. signed rent contract)
Proof of income (e.g. work contract)
The account setup took me about 2 hours. Most of the time was spent watching the bank representative type information from my documents into her computer.
Now, I don't know about other banks, but La Banque Postale also offers cellphone plans, health insurance, renter's insurance, overdraft protection, et cetera. Be aware that they will try to upsell you on all this stuff while they are opening your compte courant. I declined all of those upgrades, and at the end of the day, I'm paying about €10 every three months for this bank account.
Also, unless you're a fan of snail mail, be sure to tell the representative that you want online statements — it wasn't the default option when I opened my account.
After all my information was inputted into the computer, I made a nominal deposit of €20 (cash) to formally open the account.
Then I was given a provisional Relevé d'identité bancaire (RIB). The RIB is an important document in France. It is a standardised form with all your bank account details that allows for preauthorized deposits or withdrawals — say, for paying bills or getting your salary deposited automatically. Your employer needs a copy of your RIB. So does your landlord. So does your phone company, internet provider, and the electricity company. It's a good document to have.
I should emphasise that I received a provisional RIB. I had to wait 10 days to receive the final RIB, along with my debit card, in the mail. Until you receive your final RIB, the bank account is not technically active. If you want to make a deposit, you have to ask the bank teller to "force" the transaction. And since you won't have a debit card, you can't withdraw money from an ATM. So plan for a good 10 days before you can begin using your French back account.
After your bank account is finalised, you can ask for a chequebook. Note that for La Banque Postale, I needed to have a minimum account balance of €160 before they would send me a chequebook. It arrived about two weeks after I ordered it.
Set up your electricity bill
If electricity isn't included in your rent contract, you'll have to set up your own account with Électricité de France (EDF). You can do this over the phone, and you'll need the following before you start:
A RIB (provisional is fine)
A French phone number
If possible, the name of the previous tenant (ask your landlord)
To set up your account, call EDF client services at +33 09 69 32 15 15. Tell them you're a new tenant and that you want to set up your account. They'll ask you for the numbers on your RIB, and you'll need to provide them with some basic contact details like your name, phone number, email address, and the address of the building that you are living in. If you can provide the name of the previous tenant, it's easier for them to transition the account to your name.
They'll also ask you some questions about the apartment, including the size in square metres, how many appliances you have, if the stove is gas or electric, if you have your own water heater, etc. Based on this information, they'll estimate the apparent power of the apartment and group you in a fee category.
To give you an idea of the fee structure, my 12-square-metre studio puts me in the cheapest fee bracket. Taxes included, I pay €52.11 per year as a subscription fee, plus €13.72 per kWh that I use. In the higher fee brackets, the per-kWh rate is the same, but the annual subscription fee increases.
Since EDF estimates your power usage based on your answers to the questions, they'll charge you a flat rate every month and then correct it at the end of the year to reflect your actual usage. So you may end up paying a little more or a little less than you thought.
Again, unless you're a fan of snail mail, be sure to tell EDF on the phone that you want to receive your monthly bills by email.
Get a phone plan
If all you want is a prepaid SIM card, you can walk into any store and buy one with cash. No ID, no bank account required. But if you want a monthly phone plan (which generally gets you more bang for your buck if you need lots of data or overseas calling), you'll need to have the following:
ID (i.e. a passport)
A RIB
A debit card
Proof of residence (Your RIB may already have your address on it, but if not, bring your rent contract.)
As you know from the section on banking above, it can take at least 10 days to get your RIB and debit card. So my advice is to grab a prepaid SIM as soon as you get to Paris, then switch to a monthly plan when all your ducks are in a row.
Note: you probably won't be able to keep your phone number when you switch from a prepaid SIM card to a monthly phone plan. I was told that it would be no problem, but in the end the technicians at Virgin Mobile couldn't make it work. So, a word of warning, but your mileage may vary.
Use this website to compare the different phone plans available in France. If you have all the documentation ready, you should be good to go with the operator of your choosing. I've dealt with three phone companies here, so I'll elaborate a little bit on that.
First, I got a prepaid SIM card from SFR, and I don't have much to report on that front other than to say it worked well, they had decent coverage, and they sent me text messages when my credit was almost used up. No complaints.
For my internet needs, I got a mobile broadband hotspot from Bouyguyes Telecom. They were actually pretty lenient on the documentation requirements. They signed me up for a 1-year contract even though at the time I only had my provisional RIB and no debit card/void cheques. They noted my RIB details, and told me to come back to the shop with my void cheque once it arrived so they could put it in the file. (Specifically, I went to the Forum des Halles location and the staff there are great.)
The third operator I've dealt with is Virgin Mobile (they had a decent plan with unlimited calling back home to Canada, which I found appealing). But they were more strict than Bouygues, requiring both a finalised RIB and a debit card in addition to my passport.
Enjoy Paris!
Now that you have a place to live, a way to get around, a bank account, internet, and a phone plan, get out there and live your life already.
Oh, and if you're in Paris and reading this, drop me a line and let's meet up for coffee (at least that doesn't come with an application process).
Sam Nabi