Deciding to spend an extra day in Mexico City was a good idea. Our hostel room is equipped with quite a nice bed and a large private bathroom, which we used to hand-wash all our clothes.
The hostel is fun, social, and full of people our age. We made a few new friends over drinks at the neighbourhood bar, trading stories of travel experiences. We met a man from Lund, of Colombian ancestry, who had recently travelled to Medellín and gave us a glowing review. Julia practiced her Spanish with a man from Argentina who was wrapping up a month-long tour of Mexico.
Mexico City's historic district, and more to the point its pedestrian-only Avenida Madero, is the most corporate/American/bourgeois part of the city that we visited. Full of European watches, Starbucks, McDonald's, and fast fashion chains. It's a pleasant enough street otherwise, terminating at a plaza with a humongous Mexican flag.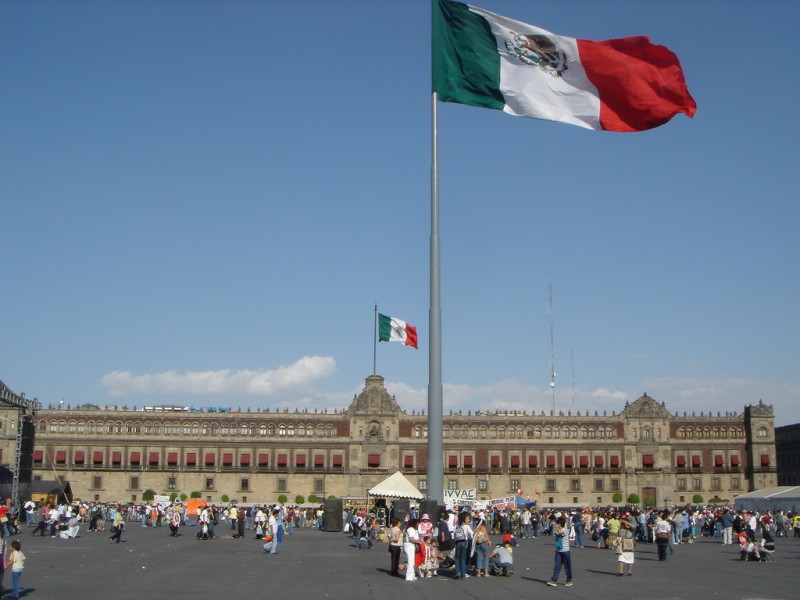 We ventured to the ritzy Condesa district with our fellow hostel-goer Elizabeth. Actually, Condesa has a reputation for being ritzy, but we found ourselves walking for quite a while along shuttered building faces before stumbling upon a wine bar here, a taco stand there, another bar over here, all at least a block apart. Condesa has nice venues, but it doesn't feel quite like a cohesive bar district.
Of course, we had to visit Frida Kahlo's house. By far the most touristy party of our stay, we traded stories with an older couple from Michigan to pass the time as we waited in the long entrance line. Frida's house is tucked in a residential area of Cuayocàn, a beautiful neighbourhood bursting with flowering trees and birds. Each house is unique in its own way – it's clearly a well-to-do area, but very much part of Mexico City's urban fabric. A small convenience store on the corner sells us a bottle of water for 8 pesos. We hear children's excitable voices float out of the windows of a school for children with disabilities. The garbage truck rolls down the street as we approach Frida's house, bells clanging to alert the residents to bring out their waste.
The house itself is gorgeous. All thick cement walls and flat expanses, like a canvas. In some rooms, the walls themselves have been decorated with quotes and inscriptions. In Frida's bedroom, foot-high red letters are painted around the top border of the wall, name-dropping Frida, Diego, their friends, and claiming Cuayocàn as their own. It was painted in 1956.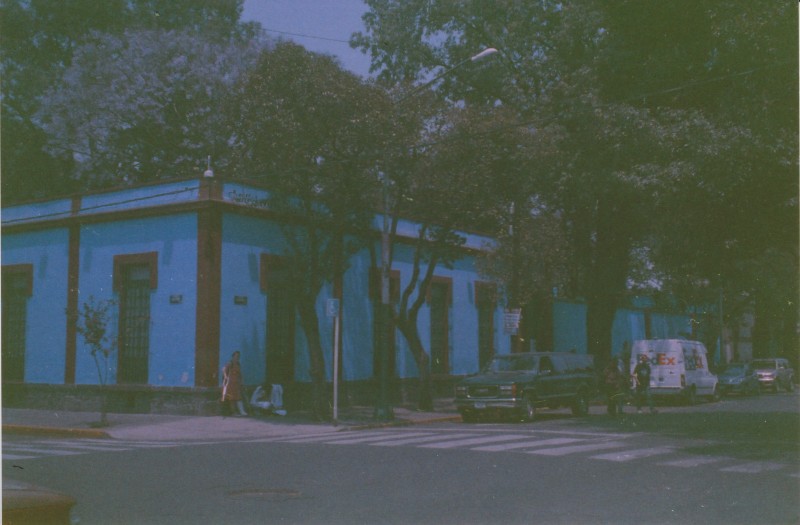 There's a gallery in the first few rooms of the house – Self Portrait with Stalin, Viva la Vida, Watermelons, Still Life (Round) (this one was my favourite), various portraits of other people, self-portraits depicting the agony of failed births…. Frida's art is gripping and personal, but as we move from room to room, the gallery becomes less formal, more domestic, more raw and full and unfiltered. We see the wheelchair Frida sat in, the very mirror above the bed that her mother gave to her after her paralyzing accident. This mirror allowed her to paint those self-portraits.
The most fascinating room for me was the studio where, aside from the old art supplies on display, Julia and I stood observing the cracked spines of all the well-worn books in Frida and Diego's library. A History of the American Man, Russian revolutionary literature, Volumes upon volumes of Marxist thought. Some in English, some in Spanish. On the wall hung a large scientific illustration of the fetal development cycle.
By this point we had left the public exhibition behind, and were entering the shadows of daily life, the beds in which Frida slept, the books she read, the courtyard where her animals frolicked. This was her world, and we felt honoured to be a part of it. Julia spent a few meditative minutes beside the urn containing Frida's ashes, sitting, present with her ghost.
The Frida Kahlo house lets in a maximum of 135 people at a time. Large enough to keep the line moving, and small enough to prevent overcrowding. Moving among the paintings and household trinkets, we floated along with a swirling current of 133 other bodies. We admired Diego Rivera's kitschy pre-hispanic conversation pieces (I like to imaging everything in that house is a conversation piece), taking in the calm beauty of the walled-in courtyard, and finally stepping into the gift shop for some mementos (I wonder what Frida and Diego used that room for?).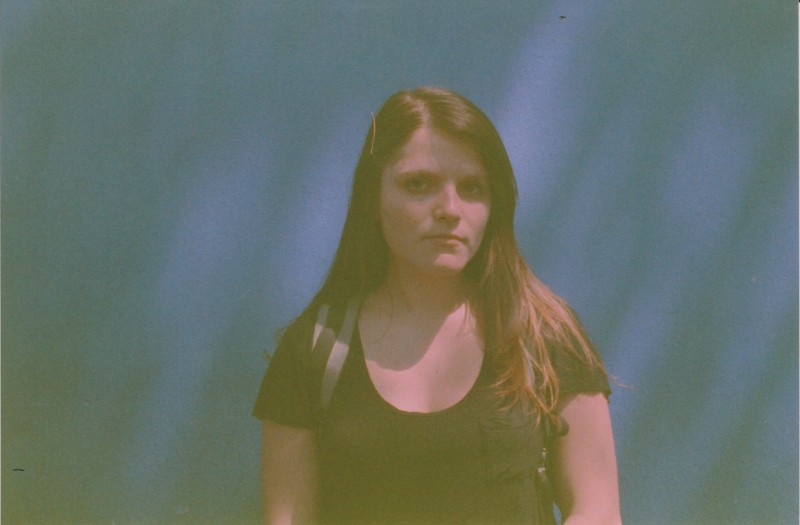 And as it happens, as I was waiting outside the ladies' room for Julia, I spotted a familiar face – a Torontonian, a Kitchener associate, even. It was Božena, Kosa Kolektiv extraordinaire! She spotted me, or just my shirt (the Kitchener crossword one) and stopped in her tracks. "Kitchener?"
A serendipitous encounter turned to lunch at a nearby seafood restaurant. We swapped stories throughout the afternoon, the distance between Mexico City and our respective hometowns bringing us closer than we ever were at home. She had been travelling in Oaxaca, participating in a textiles workshop and learning about natural dyes. Absorbing traditional knowledge to relay back home to her folk arts community.
It was a refreshing day, as if we were not weary travellers but a group of Mexico City natives, catching up with friends on the weekend. Our growing familiarity with the metro system gave us an outsized dose of confidence, and Julia and I flitted between interesting neighbourhoods, soaking it all in. We didn't have any specific monuments or museums to see; we just wanted to experience the city. We indulged in delicious street food and gave money to panhandlers (2 pesos is expected, 5 pesos is considered generous).
That evening, we met up with Božena again at Punto Gozadera. It's part cafe, part bar, part music/poetry venue, part bicycle repair shop, part workout gym. This gem just south of Bellas Artes, on plaza San Juan, is a radical, countercultural, anti-oppressive space for all things feminist. Block-printed posters hang on the wall – "Mi cuerpas es mio", "Lesbo-feministas contra la sistema heterosexual". It's the kind of place that pulls people together, that fosters a critical mass of activists, that builds solidarity. We've only scratched the surface of Mexico City, and I'm impressed by how multifaceted, how rich, how current the culture is here.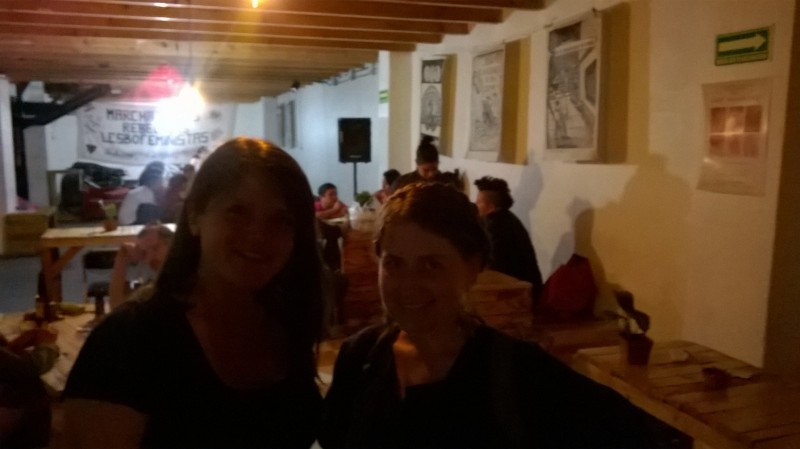 At the same time, I'm glad to be leaving tonight. Like the centre of any large metropolis, we've had to dodge taxis, swim against the current of unmanageable crowds, contend with shouting vendors, hurry past austere police and military guards, and keep our guard up against the general hyper-disorienting hubbub that is giving me a headache. Add to this the constant blaring boomboxes, TVs, and loudspeaker announcements — I'm ecstatic to be en route to the idyllic town of San Cristóbal.
Julia and I ended our short stay in Mexico City with a wonderful little dinner at a cat café called La Gateria. Even after a long day of walking in the hot sun, we couldn't help but break into smiles as we cuddled with the cats – all up for adoption – while eating our meal.
Now, exhausted, we're waiting in Mexico City's Tapo bus station. They're playing Paranormal Activity on the TVs in the departure lounge. Paranormal Activity! This city is stressing me out. Estoy cansado.
Sam Nabi