I moved to Waterloo in 2008 to attend university. Coming from Whitby, quite a homogeneous bedroom community, I was taken in by the incredible diversity of experiences that the tri-cities had to offer.
It was a short trek from campus to downtown Kitchener, where I volunteered with Food Not Bombs and became acquainted with The Working Centre. I remember mountain biking at Chicopee in the fall, and taking a solo excursion on the iXpress to wander around Galt one day. A few friends and I spent a Saturday in St. Jacob's, amazed at the rural charm such a short distance from our dorms.
Figuring out what to call this brilliant collection of communities is a perennial challenge. Waterloo Region doesn't have a defined core surrounded by outlying suburbs. Each city and township — and often, areas within those cities and townships — have distinct identities and relationships with each other.
Kitchenerites bristle when Waterloo gets credit for its tech industry's success. Cambridge is often made to feel like the runt of the litter when it comes to regional politics.
Could this friction be explained, in part, by mapping out where residents live and work? I decided to pull up the 2016 Census figures for commuting. They show some really interesting patterns!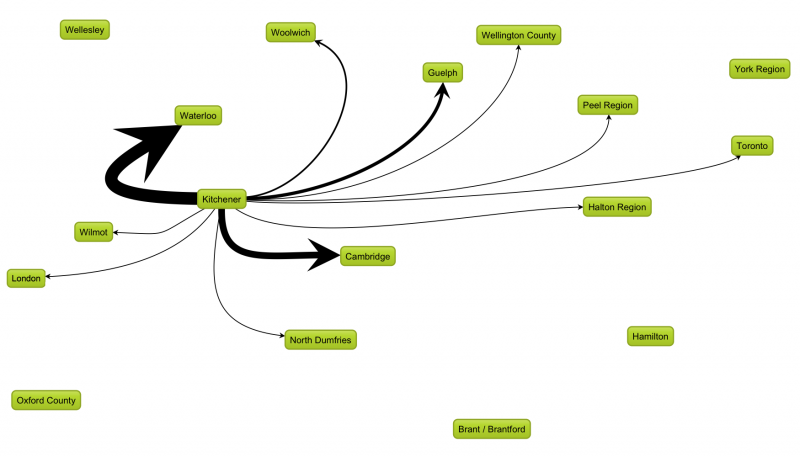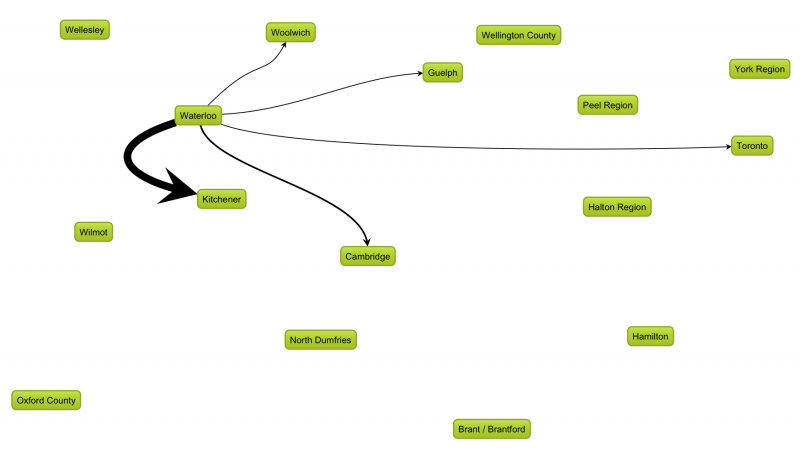 Not surprisingly, Kitchener and Waterloo are tightly bound together. The geographic proximity of their urban centres, and their larger populations compared to the other municipalities, mean they get a lot of cross-pollination. The KW identity also happens to be much more unified than that of Waterloo Region as a whole.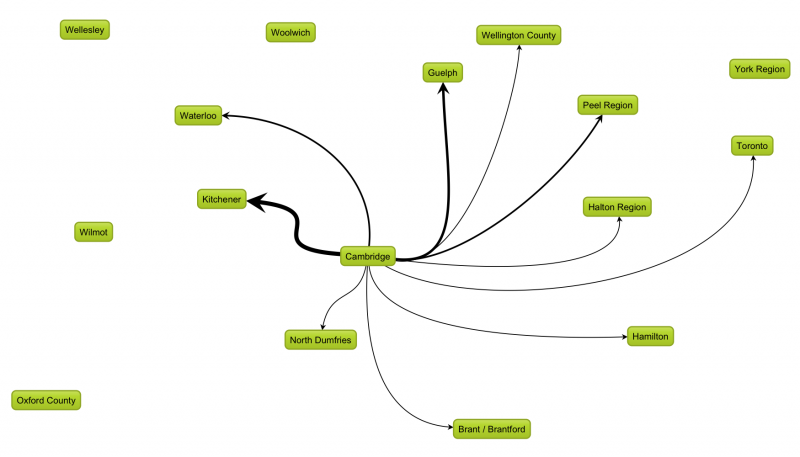 Cambridge's stats are especially interesting. People are more likely to commute to Guelph or Brampton/Mississauga (Peel Region) than Waterloo. This could be a contributing factor to Cambridge's sense of isolation — many of its residents leave the Region for work.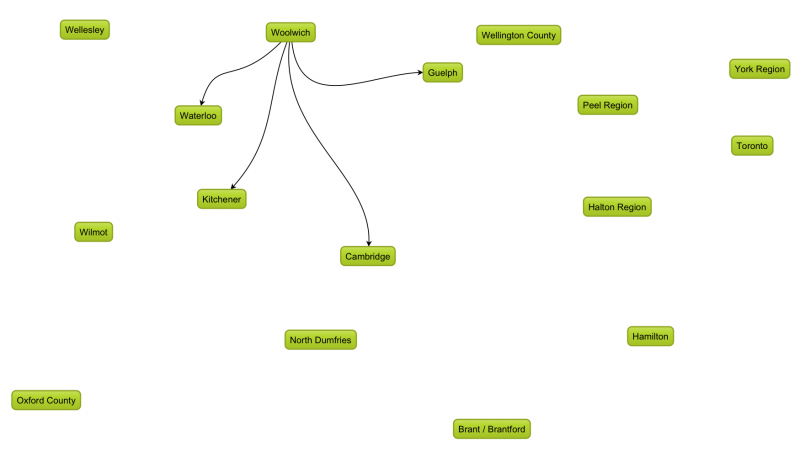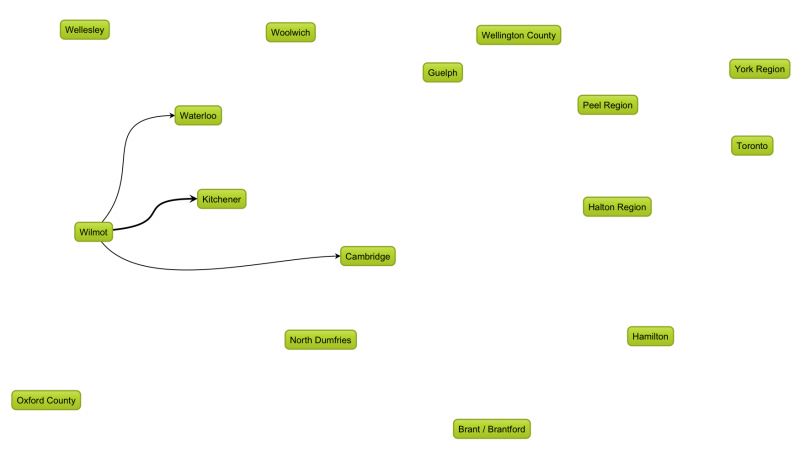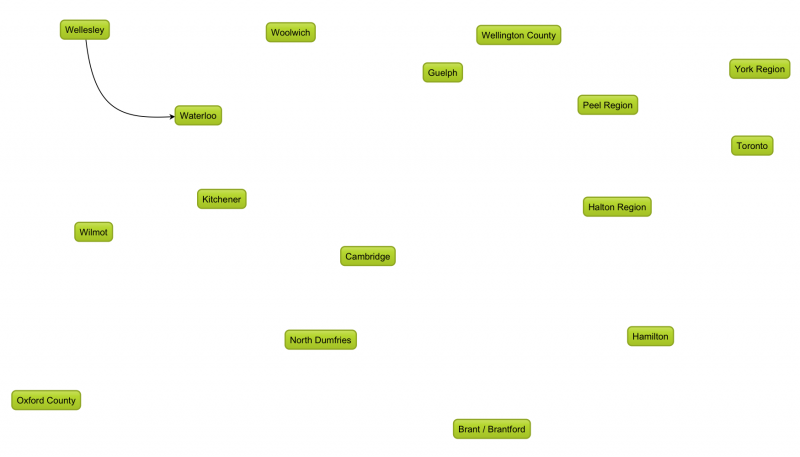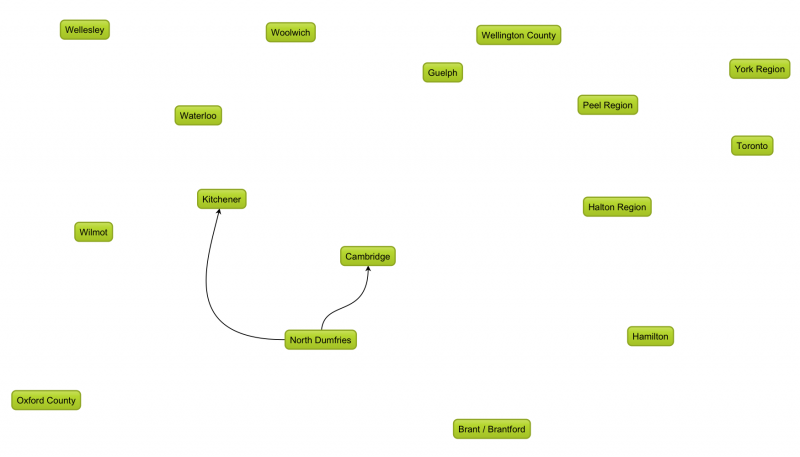 It's worth noting that these maps show the number of people who commute outside of their home municipality. People who live and work in the same tend to make up a large slice of the pie.
| Municipality | Percentage of residents who work where they live |
| --- | --- |
| Waterloo | 50% |
| Kitchener | 48% |
| Cambridge | 55% |
| Woolwich | 35% |
| Wilmot | 27% |
| Wellesley | 24% |
| North Dumfries | 16% |
What do you think? Do commuting patterns match our cultural identities across the region? Do people in Wellesley feel more affinity for Waterloo than for Kitchener?
What other factors can we can look at to better understand Waterloo Region?
Sam Nabi